On April 10th I went with some friends to see Johnathan Rice play at the Grey Eagle Tavern and Music Hall in downtown Asheville. Probably one of the most incredible experiences of my life. We got there pretty early and I saw Johnathan walk out of the tavern and I completely flipped...I couldn't believe that he was right there. I never thought I'd be able to see him in concert, then I wake up one morning and find out he's playing in downtown asheville. In ASHEVILLE, how could I not go? I wouldn't have been able to forgive myself.
Before the show started Josephine, Melinda, Emily and I hung out at the bar; unbeknownst to me that that is where Johnathan likes to hang out as well before the show. He was sitting at a table with his backup guitarist Neil Casal and Neil's family. I took a few pictures but they're really dark, and don't show up very well. I'm in desperate need of a photo editor. We stayed there until he left.
His set was barely 40 min. long, because he was the opening act for some guy named Mason Jennings. It was just...so real. He sounds the same in real life as he does on his recordings, his voice like liquid movement flowing through the mike and over the audience. His voice is, empowering, strong and deep echoing from his small, fumbly body. Very endearing, he kept his eyes closed most of the time as he always does, made sweet jokes with the audience and teased a few cat calls.
He's really the only person I wanted to see in real life...and now that I have I feel...sated. I don't think it could have gotten any better. But I would like to see him again.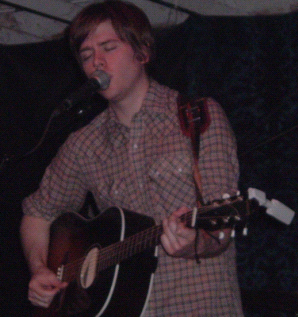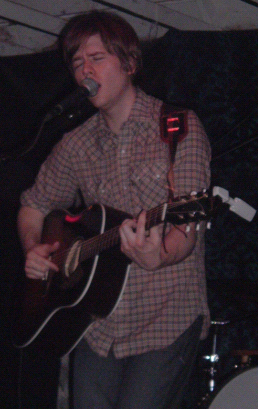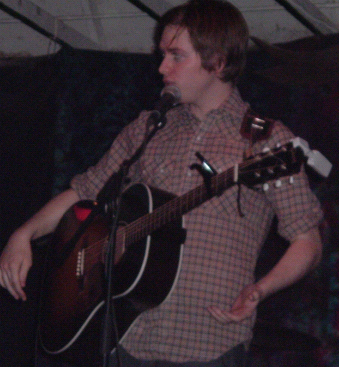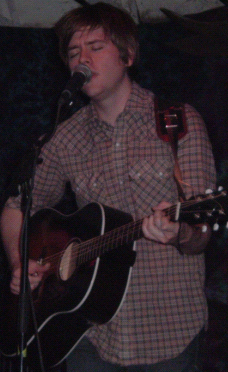 After the show, we waited around the bar. We went outside after Melinda and I spotted him out there. But as we went outside, he made his way inside, he walked right past my boyfriend John. Johnathan walked outside and the next thing I see is John talking to him. My heart stopped. My boyfriend came over to us and said that Johnathan said he would be at the bar if I wanted to meet him.
I met him. I shook his hand and told him what a big fan I was. He signed my poster, posed for a picture. I was speechless. I couldn't really talk after that.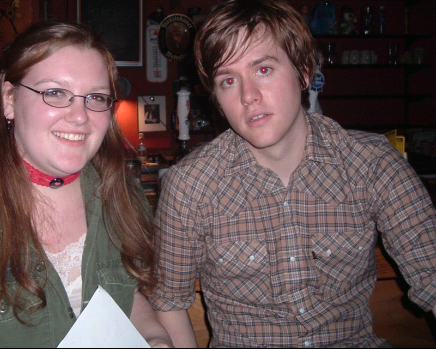 Johnathan signing my friends' poster.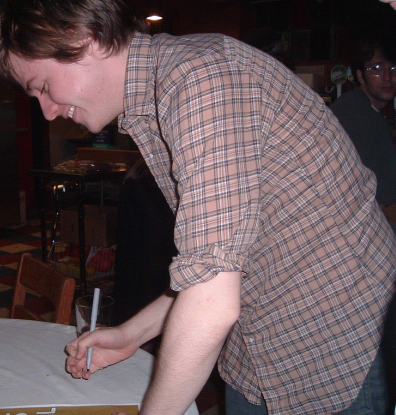 Johnathan Rice is very approachable. Genial and kind with a vulnerable sway, his voice is as deep as the music he plays and his eyes are as big and greenish/blue as the lyrics he writes. I could tell that he wasn't very used to "fandom" ; he's only the opening act and I'm sure he would rather play his songs and sit at the bar quietly while Mason does his show, but I wasn't there for Mason Jennings. I went there to see Johnathan Rice. And I can't wait to see him again when I've never heard of who's opening for him, and he plays for more than 40 minutes. As it should be.